Sejak akhir2 ni my hubby selaaaalluuu la lambat sangat pick me up at LRT station.
Jadi sambil tunggu dia, saya plak suukkaa habiskan masa dengan belek2 majalah ID.(sampaikan mat bangla newsplus tu dah cam muka saya n siap sound lagi kalu tak singgah...hik hik hik)
Need some fresh ideas for home design since we are planning to buy our own home. Talking about buying home, hmmm...duh...susah nye nak decide mana yang better. Lagi2 kalu nak pk pasal location. Forget bout it. It is a huge decision so I think it will take a time and a long long long way to go. Later we talk bout it.

From my belek2 tuh, I found dis... Yes, it's a round bed.
I like the design since I love to deco my dream house in mode and traditional style.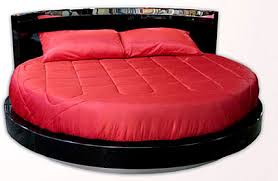 Cantik kan? hehe...how bout dis one...
Rasa seperti duduk dalam sebijik telur. hehehe...


Dis one sooo luvly lullably rite? Imagine my lil princess sleep in a pinky round bed. hihihi...


Comel kan? Cam belon.
Ooohh...ada gak yang floating round bed. kira bole jadi buai aar. hehe...fantastic kan?
http://www.floatingbed.com/images/JoLMalibu700.jpg
Yang atas ni kalu size kecik bole letak kat indoor garden. Sambil berangan2...hehe... tak pon letak dalam library room ke. jadi tak de la rasa cam library sangat. The tag for this floating bed is
"Like being in a cloud...and gently rocked to sleep"
. Ya. itu lah perasaan yang saya inginkan.hehe...